In an interview from Hotel Tech Report, Vassilis Syropoulos, the CEO of Juyo Analytics, a Brussels based commercial analytics platform for hotels, shares an inspiring story on how he started a successful career in technology.
Syropoulos was VP of Demand Management for Pandox AB (a large European hotel ownership and management company) and was feeling first hand the immense cost of this problem when he decided to build the analytics platform that is now an independent company – Juyo Analytics. Pandox was such a big believer in Syropoulos and his idea that they even became his first customer.
Vassilis spent years in hotels learning from technology companies, trying products and being a true technology maven before diving into the space himself. His story is an inspiration for hoteliers looking to start a career in technology or even start a business of their own in the space.
"Since the beginning I was very curious. Every time a vendor called me I saw it as an opportunity to learn something new, to build my network, understand the market from a different perspective and potentially find something that would make more money for the company I was working for. I was thirsty to learn and then it became a habit."

Vassilis Syropoulos
Syropoulos previously worked with independent properties and major brands having spent time at senior positions within IHG and Starwood properties all the while trying new technologies, learning from his vendors and keeping his eye on the long-term opportunity to become a technology leader himself. Today he's also an investor in event intelligence firm Get Into More.
Juyo & HSDS share history
"In early 2014 Hospitality Software Development Services/HSDS was chosen by Juyo Analytics to build Vassilis Syropoulos's visionary "Hotel Commercial Analytics Platform" and more.

What was absolutely clear from the very first meeting with Vassilis was that he knew exactly what he wanted, and he was not willing to cut any corners.

What ensued is one of the most exciting projects we have ever been involved in (and are still involved in), and the formation of Vassilis's own dedicated development and support team with some of the finest Software Engineers and Support Engineers in the business.

We are immensely proud to play a small part in the success of Juyo Analytics and believe Vassilis may well change the Hospitality Industry with his drive and crystal-clear, no-nonsense approach.

Thanks Vassilis and team Juyo Analytics we look forward to supporting you as long as we can add value!"

Adriaan Kleingeld – CEO HSDS
Tell us about your background in hotels
I was born and raised in Greece, My parents owned a beautiful café at the seaside so I was in hospitality since I was 10 years old. Travelling and Hotels is what I really wanted to do. I studied in Switzerland and then started at the Front Desk during night and day and then moved to Revenue Management. That was with IHG and their very beginnings of Revenue Management in Europe. I had no clue what the job would be but it sounded sexy so I almost begged the GM to put me in that position. I thought it was the future and I was right.
The first few months I didn't know what I was doing. The first week I started at the new job, my hotel was audited and the score was worst in class in EMEA. I was even publicly shamed at the annual conference by the VP at that time. That first week made me want to be the best so I worked hard, read books, went to conferences, and learned myself pretty much everything there is to learn. I ended up being sponsored by IHG to go to Cornell and finally made it on the top 10 list of top revenue talent within the global organization. Hard work pays off.
15 years ago there was not much I actually loved when working on property. I felt that chains were standardizing everything with standard operating procedures and rigid hierarchies. Also when I started in Revenue Management I was disappointed to see the "real work" involved. We're talking 15 years ago now. I was picturing myself as revenue manager like some sort of rocket scientist but instead I was copying pasting stuff in Excel. Systems did not talk to each other, everything was manual.
For the geeks out there I had a master Excel file whereby I was translating hurdle rates in minimum length of stay restrictions that I had to manually put one by one into the CRS. Wholesalers and static rates were all over the place and reservation input in the PMS was often late as teams were trying to catch up. No real time stuff… I really don't get sometimes what everyone is complaining about today. The world is such a better place. I did not know what the optimal way should be but for sure as hell I knew it was not what I was doing at the time.
On the other hand, I did love the contact with the guest. At least when I was on the front line. That was something I was very good at as I was working since being 10 years old. And no there is no such thing as child labor in Greece! You just put your stone on the family business. I loved it and so much money from tips I could use partly to pay my school. My parents paid most of it but they could barely afford such an expensive school. All this helps keeping your head screwed on when running a business and watching your cash flow. I learned so much from such a young age and I am deeply grateful for those learnings. It helps develop emotional intelligence – something I could use later when needing to pull teams together towards a common Revenue Strategy.
When did you first become interested in leveraging technology to become a better hotelier?
From day one in my job. But 15 years ago there was really not much by way of technology so a lot has changed in that time.
I was a total Excel junkie as I mentioned. You know it's an amazing tool. You can do everything. It just does not scale and is not made for complex data sets. But at that time, it was brilliant. And there was nothing else so Excel it was.
As a hotelier what was your biggest frustration with technology vendors?
I cannot recall being frustrated with tech vendors, you see I had a different approach. Since the beginning I was very curious. Every time a vendor called me I saw it as an opportunity to learn something new, to build my network, understand the market from a different perspective and potentially find something that would make more money for the company I was working for. I was thirsty to learn and then it became a habit.
I kept inviting vendors and getting the teams to assess, learn and perhaps implement something. My hotels where I was working were always the first ones to adopt a piece of tech. I was on all the pilots. One of the companies I signed up had not even Incorporated yet. I said I love your product; incorporate your company and we will sign up with you straight away. We are still friends today with that vendor. It's like it's not us and them or us vs them. Were all in this together with aligned interests.
What is the most widely held misconception that hoteliers have about technology?
There are many misconceptions still out there despite all the progress and things are constantly changing but the one misconception that I consistently see in the market is the idea that it's a massive project to install something (hotel software). Today it's pretty easy, takes minimum effort and the ROI can be great. It's sort of getting to a place where hoteliers can JUST DO IT.
Tell us about your journey from hotelier into technologist?
There was a point in my career where many things came together in the world and my environment. First of all there as much more data than before for Revenue Managers to use, Secondly the lines between revenue management, distribution, marketing were blurring with the digital landscape. Thirdly cloud technology although existing since a long time it was more and more present in Hotels and access to tech development was easier and easier.
And last I was involved with Pandox, which is one of the leading Hotel ownership groups in Europe. Value creation is the main driver for such a sophisticated owner. How do you drive value? More profit obviously. All this together I felt we needed a new sort of Analytics for Hotels. I looked at the market to find a vendor or piece of tech that I could plug in but could not find anything suitable. So, I said to myself (probably the most naïve thing) "This should not be hard, write few interfaces, connect some data points and let the magic happen. Obviously, I realized quickly I was wrong.
What was the most challenging part of moving from hotels into technology?
So, I don't even know where to start. First of all I knew my job but knew nothing about technology. Knowing all the features on your iPhone does not make you proficient in tech. Once more in my career I had to learn everything again. There's a great quote from Richard Branson that says: "If someone gives you an opportunity and you don't know how to do it say 'yes' and learn how to do it after" – that has always resonated with me.
I had a customer, there was a need but I had no clue so I needed to learn. I went to conferences, read blogs, books, trained myself, spoke with people in tech, you name it. I was fortunate enough to find a great tech partner and that has been critical. The truth is that even with all the reading at the beginning when you actually have to do it you really have no clue. I made mistakes every day, small, big you name it. Woke up in the morning solving only issues and doing the same all over again every day. But the people around me like partners, developers, team​ believed in it and we persevered.
We bootstrapped the Juyo Analytics business – so I couldn't afford to make existential mistakes. I would wake up and go to sleep with cashflow excels. I still do today. It makes you quite pragmatic in your decisions and damn focused. We have been approached by VC's, but we don't think it's the right fit for us. I feel it will distract us. It's like I need to spend 9 months hunting VC's, I prefer to hunt customers. I am a simple person it's not necessarily a world I understand or want to be part of. It will take longer but we are making something great.
Give us the elevator pitch for Juyo.
Organizational silos are breaking down across hotel organizations: from revenue to distribution, marketing, sales, digital acquisition, and finance. Juyo is a Hotel Commercial Analytics Platform that helps hotels connect the dots across these disciplines and empower managers to make better decisions. We turn data into profit. Digitalization brings more opportunities to improve business performance; however, as datasets become more complex – managers are increasingly being forced to connect the dots across many disciplines and systems.
Imagine that you're going to open the hotel of your dreams tomorrow. What kind of hotel would it be?
I think it would be something that would be at the Intersection of Hotel and alternative accommodation. Probably upscale not luxury. Uncomplicated, Unpretentious, certainly independent, I would attach great importance on the customer journey. The right mix of digital and hospitality. A digital customer journey should 1) remove friction and 2) empower people to get back to the essence of hospitality.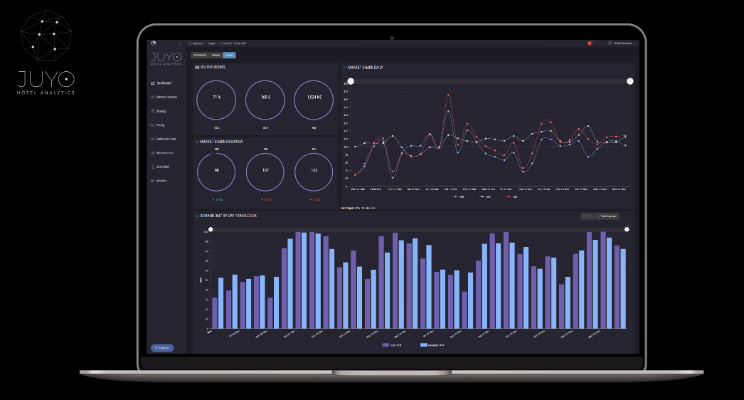 What technology would you leverage at your hotel?
A robust PMS with an open marketplace whereby I can connect different apps and tools. I like what Richard and Matthijs are doing with Mews Systems. I would spend time to design the customer journey customer made for our needs through a mix of in-house development and partners with open API's. I would have difficulty selecting a revenue management system. It would need to take personalization and attribute selling into account. Not many do that today. It's the start but the right way to go. I would attach great importance on the pre-check-in and check-in process. Digital no keycards, no apps, seamless. Disconnect the transaction from the experience. But overall keep it simple and fully automated.
What's one piece of advice you have for hoteliers who have dreams of working in technology one day?
It's not a dream just go for it. Make sure you learn a lot about entrepreneurship because it's a very different field than hospitality. Read The Lean Startup by Eric Ries and listen to podcasts like How I Built This with Guy Raz. It's not 100% focused on tech but it gives deep insights into the life of startups. I love it.
What is your favorite hotel in the world?
I don't think I have anyone in particular. Depends on the mood and time of year. I love The One in Miami Beach, I love what One Hotels stands for in regard to sustainability, I love the interior design and wish my house looked like the interior. I love how they communicate. For the winter my all time favorite is Cervo Zermatt. They really get it and have brought something new to Swiss hospitality by getting rid of the stuffy part while delivering true luxury.
For business I love the Nobis in Stockholm (one of our customers). They have managed to make a true difference hospitality wise. The Hotel Brussels, (also one of our customers which I personally did the rebranding from Hilton to Independent – Top Project and Hotel). But being in this business there are so many hotels that I love – too many to name. Some recommendations: Worthwhile to check Chromata in Santorini, Sophia's Suites in Santorini, Boheme Mykonos, Habitas Tulum, Hideout Bali, Hotel des Grand Boulevards in Paris, The Curtain in London, 25 Hours Bikini in Berlin, Relais Sant Elena in Tuscany and La Bandita in Tuscany. I'd love to stay at The View Lugano but haven't stayed yet.
What is the most exciting technology you've seen in the hotel market lately?
I love what Lennart de Haan is doing with 4Suites. 4suites wants to be the leader in digital access. The piece of tech is very clever and elegant.
Basically, when you want to enable door locks to open with your phone you need to install an app. What they do is different they install a chip in the hotel lock and an "Antenna" gateway that is connected to the Internet. Now when the customer receives the link to open the door on his or her phone (by email or SMS) and clicks on it. Their phone then communicates via the web to the gateway that sends a radio signal to the chip in the lock and opens the door. All that in few milliseconds. It's brilliant. It's completely seamless and a great way to support a digital customer journey. I wish them all the success.
Read full, original article on Hotel Tech Report.